Drawing with felt tip markers can be quite hard. It's messy, your favourite colour always seems to be running out of ink, and if you screw up you can't use an eraser to rub out your mistakes. It's fair to say most kids sucked at them. However an English artist by the name of Mr.Frivolous has perfected his use of the medium producing some pretty wicked illustrations. Which, if you ask us, is pretty clever as you can always pick up a super cheap double pack down at the local supermarket!
---
Many artists these days have an alias for their art life, what is the story behind Mr.Frivolous and where does he come form?
To be honest I don't think I intended to have an alias name. Not for art anyway. Before that I was actually a have a go MC. MC FRIVOLOUS to be precise. I was the worst in MC in the world. Good job I gave that up. But why I still have the name is beyond me.
Your rad style brings back memories of badly coloured in colouring books as a child. What made you decide to stick with felt-tip markers despite most others opting to move onto more arty farty mediums like oil paints and watercolours?  
I don't think you were as bad as me. I could never colour within the lines. But I suppose I've been using felt tip pens since I was a kid and its less hassle. Lid off when your working, lid on when your done. Nice and simple. I'm a bit impatient. But I wouldn't be surprised if I eventually started painting. I'm kind of eager to do something a bit different.
How did you first get into illustration? Were there any particular artists that inspired you as a young artist?
I've been drawing ever since I was a kid like most artists. Even in the wrong lessons in school I'd always draw. Its like an itch that you cant get rid of. Wait that didn't sound too good… but you know what I mean. I used to read a lot of comics when I was younger so I was really into comic artists like Jim Lee, Mike Allred, Jack Kirby, Mike Mignola, Steve Rude, Brian Bolland, the list just goes on. Even Rolf Harris was an influence from his kids TV shows (Rolf's Cartoon Club) to his how to draw books. I have a whole list of artists that may have influenced me but it would probably take couple of days to complete.
The commentaries scrawled across your drawings are hilarious and sometimes quite meaningful. Are they carefully thought out or just random spur of the moment thoughts? Are they maybe an insight into the mind of Mr. Frivolous?
I tend to just write what ever is on my mind at that moment. But sometimes I can be shopping in LIDL (my favourite cheap supermarket) or just walking around and then bam, a whole heap of words just come to me from nowhere and I have to type it into my phone. Or sometimes I will hear a lyric or a quote from a movie that strikes a chord within me. There's also things in there that only really make sense to me. It's like a diary mixed with self therapy.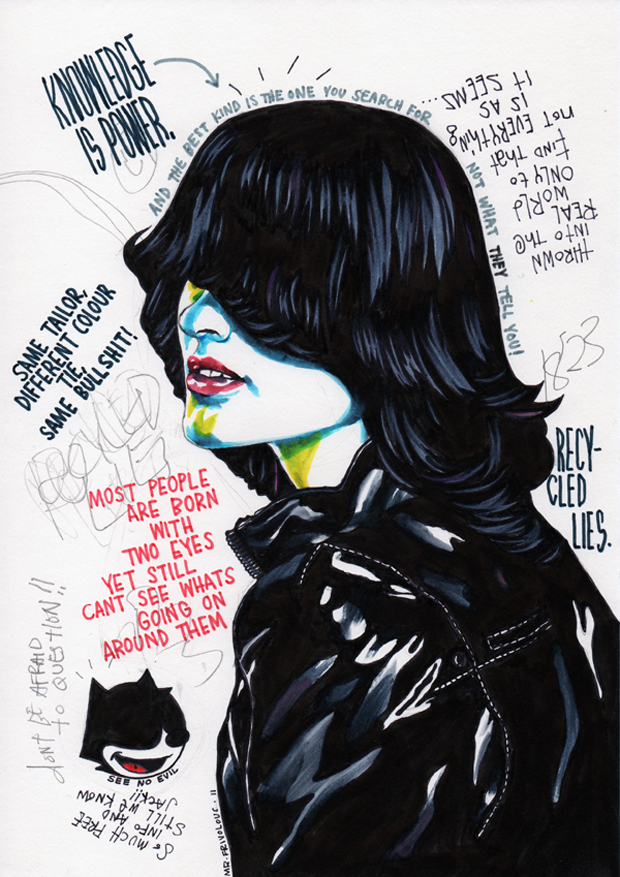 What sort of process do you go through when creating some frivolous artwork?
I wake up and try to work out what I'm going to draw which takes me about an hour. I then decide which Smashing Pumpkins album to play to help me whilst I'm working, which takes another hour. By then I realise it is best to leave my iTunes on shuffle. Then comes a blank A4 piece of paper that remains blank for another hour. I then pull out a mixture of my favorite Poundland and Berol felt tip pens, find an image then away I go.
Lastly, what do you like to do in London on your days off?
Discover new music, blog, meet up with friends, bars, clubs, dance like a maniac, watch DVDs, go to exhibitions, worry about life, eat fish and chips, avoid the "when are you going to get married and have children?" question by going to the comic store. I think that just about covers everything I like to do in London.
See more of Mr.Frivolous work at mrfrivolous.com
This interview was originally published in Yume Magazine #2 (July 2011)