Sydney based French illustrator Marguerite Sauvage gives us an insight behind her beautiful illustrations!
---
Hello Marguerite! First up, I just wanted to say that I used to have one of your illustrations as the wallpaper on my old flip-open mobile phone many years ago but didn't know who the artist was until this interview! Can you tell us a bit about yourself and what you are working on at the moment?
Hmm maybe I should start signing all of my images!
About myself; I'm Marguerite, hello, nice to meet you. I'm mainly an illustrator but I also do a lot of things like script-writing or concept-design because I'm really curious about a loooot of things. Don't ask me to cook, even though I'm French, unless you want me to accidentally burn something! Currently I work on some nice projects for Skipping Girls through Jacky Winter and Pureology in London.
One of the things I've always loved in regards to your style is your colour palette and elegant line work. What sort of influences played a part in shaping your own personal style?
René Gruau, Alphonse Mucha, Robert McGinnis, Moëbius, Kandinsky, Franz Kupka, Bob Peak, Mark Riboud, Henri Lartigue, Wes Anderson, Alejandro González Iñárritu, Agnès Varda and thousand others!
In some of your earlier work you sometimes use the roughness of actual pencil lines to great effect. Do you still use the old paper and pencil or have you moved everything onto the computer like some other artists seem to be doing?
I use a 3mm 2B pencil for lining. If I have no choice than using computer I create my own brushes to keep this "traditionally hand draw" look. Nevertheless I don't want to lose the paper and pencil choice. I already feel that computers, as playful and useful as they are, also cut me away from a bit of the sensual and emotional aspect of drawing. Feeling the material under your fingers, the direct contact and the real confrontation with your artistic process. It's something quite subtle and hard to explain but I think most of artists can understand what I mean, do you ?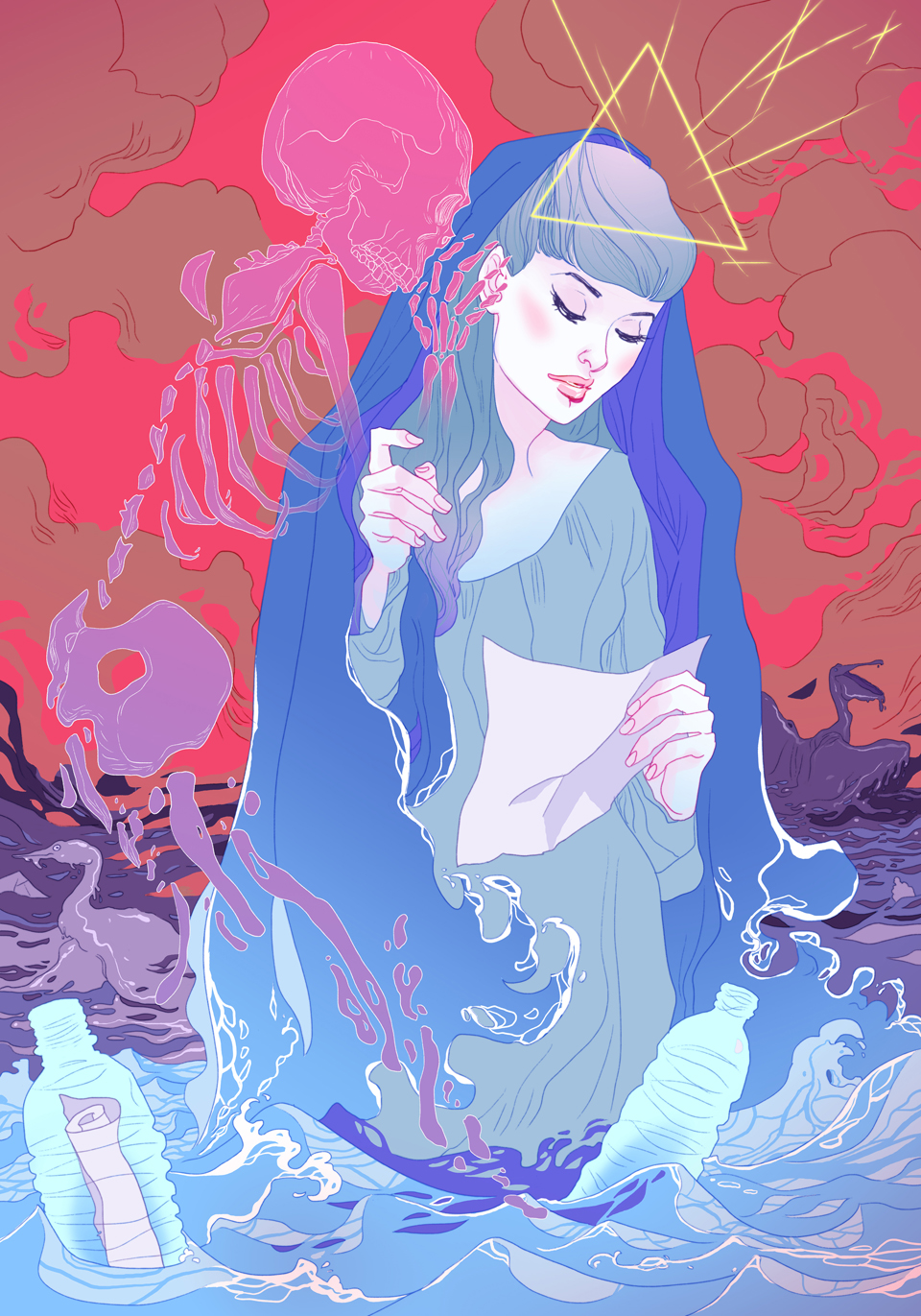 Yes absolutely! Can you tell us a bit about your process for one of your illustrations?
I read the brief or have an idea or an envy (in the case of personal work). Explore this idea and find more ideas. Sketch, sketch, sketch! Look at the drawing. Be grumpy or happy. In case of grumpiness sketch again until I get a good image. Scan, clean, compose, colour 'til satisfied and that's it!
What is your studio/work space like? And what sort of music do you listen to while you work?
I'm not in a settled work space for the moment, but there is still some essentials: plants, posters of typography, illustrations or of souvenir images on the wall… and a lot of messy paper to be sorted! When I work most of the time I just listen to radio news or radio programs. I love the scientific ones of Radio France and ABC Radio National. When I want a brain break I listen to music such as PJ Harvey, Eric Satie and Sigur Ross on Grooveshark.
Did you always want to be an illustrator growing up? When did you decide 'this is what I want to do for a living'?
Oh no, I wanted to be fuel-delivering lady, then a vet, then a judge or a lawyer (I studied law at the Uni) then a journalist (then I studied law of media and journalism). Finally when I post-graduated at Uni I realised I was always doing things to satisfy everybody else except me, so I decided I must try something to do with my drawing skills. Now I would like to be a vet again, a drawing of one of course!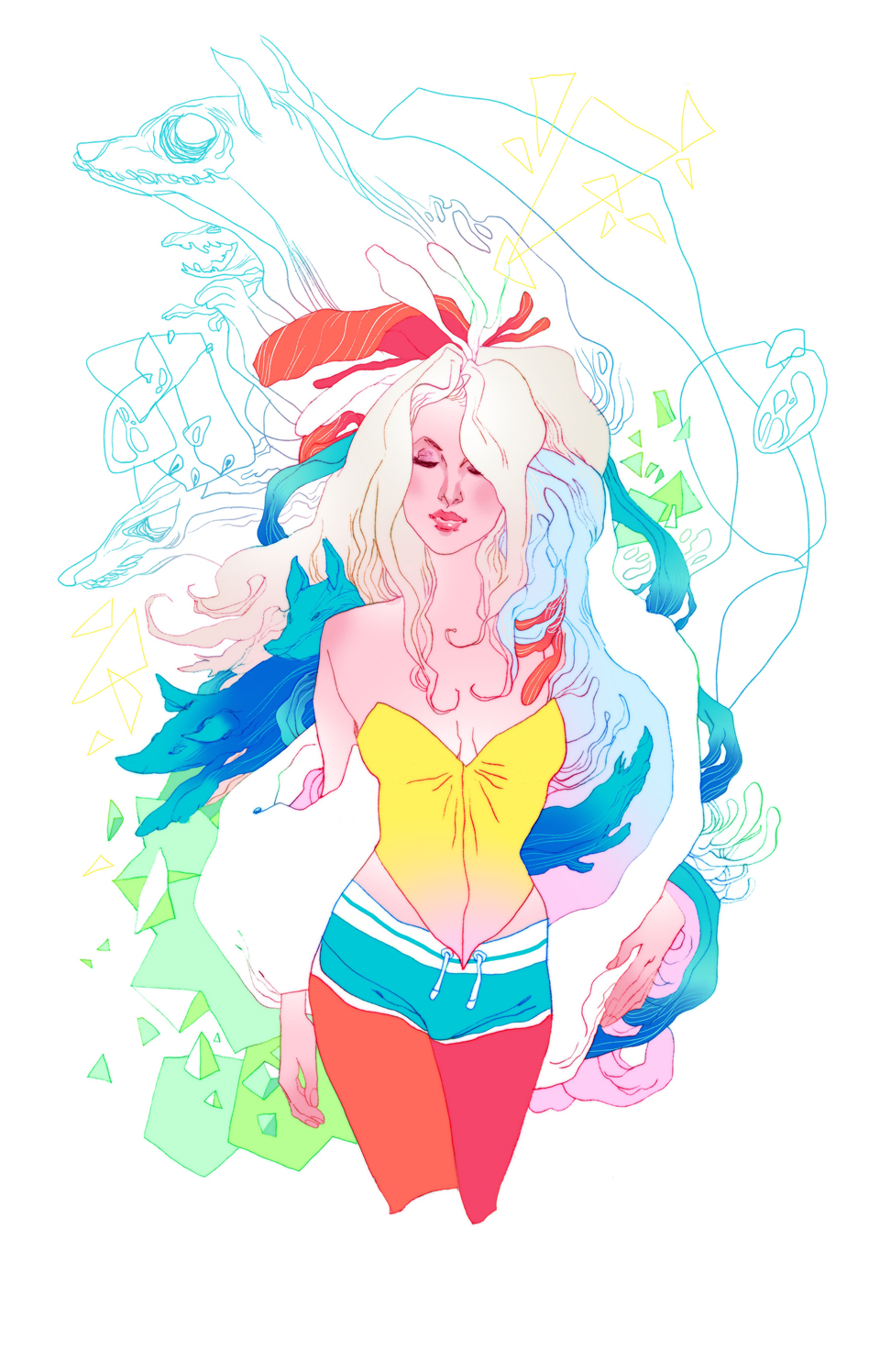 You are originally from Paris, what made you decide to move to Sydney, Australia?
Love!
Awwww that's sweet! And that brings us to our final question: what do you love to do when you are not making art?
Discovering fabulous Australia, meeting people, watching good things, eating good food, reading good books. I'm not complicated.
Originally published in Yume Magazine #5 (August 2013)