Tim Reid tells us how he turned his passion of pinball machines into a successful career.
---
First things first, how did this obsession begin?
Well, after completing a Primary Teaching degree 4 years ago, I rewarded myself by purchasing a pinball machine. I had always enjoyed playing them in arcades but never really considered actually owning one. After a little digging online I found that they were available for sale and I made my selection (Williams Funhouse for good reference).
While the game technically 'played', I was CERTAIN that it would've played much better when it left the factory some 25 years earlier. The flippers were sluggish, and the lights and targets were filthy with years of grime build up. The playfield (the surface the ball rolls around on) was worn away in areas and the cabinet was barely holding together.
At this point, I hadn't really considered a pinball machine as a piece of art – but the more I looked at this game; its mechanics, electronics and visual design; and how they all complimented each other – I really became obsessed with the idea turning this rusty old game into a piece of 'playable art'.
I quickly scrapped the idea of simply getting the game playing nicely, and began documenting a new process. A true, ground up restoration. I photographed and referenced of every square inch of the game, and began stripping all the parts off the playfield and from the cabinet. Anything broken – was replaced. Anything that could be cleaned was washed, polished or waxed and carefully labeled and documented. Rusted parts were sent out to be stripped and plated to last another life-time. Anything that looked like a factory flaw was given attention and dialed in. There are hundreds and hundreds of individual parts that make up a pinball machine and I remember spending countless hours developing a refinishing process for each one. I really became obsessed with the idea of making the game perfect again. When it came to correcting the damaged playfield artwork and solidity of the cabinet – I was fortunate enough to already have some basic knowledge in the area of paint and refinishing work, along with a very patient father who I really need to credit for instilling the passion to always do something to the best of your abilities. I repaired the playfield and cabinet, and rebuilt the entire game with the fresh parts over a few months.
Turning the game on again for the first time after restoration was both incredibly nerve racking and rewarding. Nerve racking before I turned the game on for fear of something being incorrectly wired; rewarding after the game came to life and looked as nice as it did 25 years ago (and didn't catch fire).
As I had been documenting this project from day one, I decided to share the information on an internet pinball forum for other members to view and comment on. The project had a great response from members and it wasn't long before I had collectors emailing me asking if I would be prepared to apply the same process to their games. While the offers were extremely flattering, I ultimately declined the work as I wanted to improve on all of what I learned from the project.
My second pinball purchase ensued (Williams Terminator 2) and this project was used to prototype the idea of managing a restoration start to finish. I considered what order to do things in, when to order parts, when to install certain things and how to test them before going too far with the project.
I also considered the cost of purchasing a new part versus the time spent restoring the old one. If I was going to offer this as a service, it had to be realistically affordable for the client.
Once this project was finished – I was confident that the end result was far superior to that of the first restoration. Not only did the game present and play better; the project followed a path I felt would be economical for a potential customer.
So in reference to the initial question, 'how did all of this come about?' – I really have to credit those early enquirers for the idea of offering a pinball restoration service. Thank you.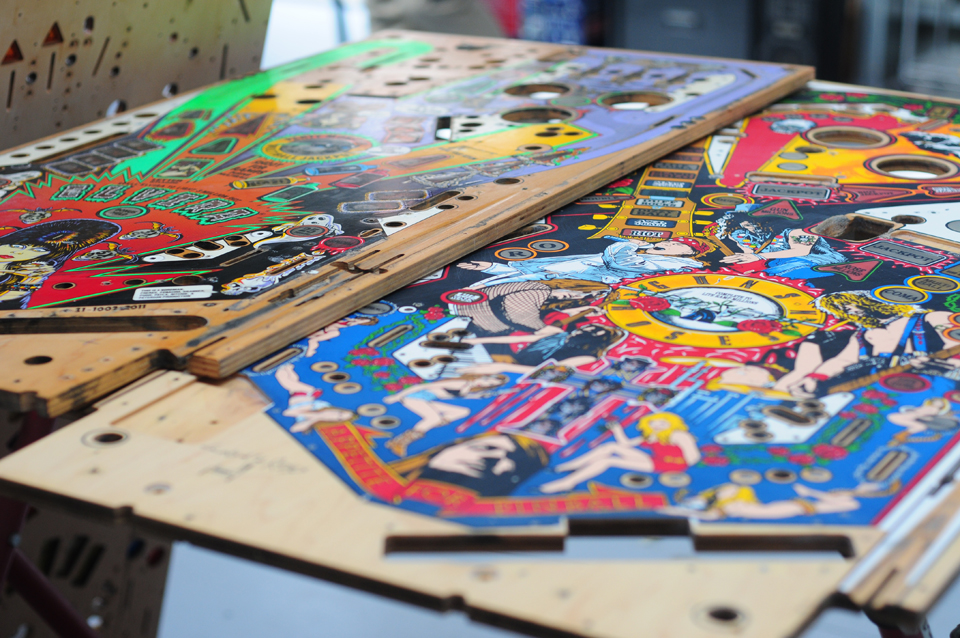 Great back story, what about the business?
When people ask me what I do for work; and I reply "I restore pinball machines", more often than not I am greeted with an unsure look and a passing smirk as if to say… seriously? The reality is, yes – I do restore these games – and while it is a lot of fun, and extremely rewarding; it has become a serious business none the less.
Hot Rodded Pins (HRP) was born shortly after the two games detailed above were completed and is now coming into its third year of operation. I chose the name based on the fact car restoration and hot rod building are synonymous with attention to detail and are generally very laborious tasks. This complimented the type of work I was striving for and as such it now serves as a brand of quality and workmanship in the pinball community.
The projects commissioned to HRP are shipped from all over the country, some internationally. Every pinball machine receives the same restoration process regardless of rarity, title or age. Each project 'generally' takes 150 -200 hours; and will spend anywhere from 4 – 6 months at the shop.
As restoration by nature is full of variables, like tracking down rare parts or making replacement pieces, we work on 4 – 8 games at any one time to ensure the business continues to operate smoothly.
Is HRP just a one man operation?
Absolutely not. I think one really important aspect of running a business is to know your limitations, and to always be open to advice and knowledge. While I own HRP, I operate the business with Stuart Coltish – who came on board 18 months ago when I wanted to take the paint and cabinet restoration work to the next level. Not only has he become an integral part of the HRP operation, we have both worked hard to develop a unique process that people recognize as one of the best 'all-round' options for pinball restoration in the country.
So what comes next?
Well, that's really exciting… but I'm not sure. I have had way more positive feedback than I have had negative over the years and that is always a good indication that people are happy with the service on offer. That being said, I certainly don't want to feel like we have reached a plateau. We are constantly reflecting on what we have achieved thus far, and how we can take the projects even further next time round.
Anything else to mention?
I would simply like to thank people for taking a real interest in what this business is about and supporting what Stuart and I are trying to achieve with the projects.
I recommend checking us out online. We provide an online portfolio with examples of some of our nicest restorations. Any questions about the business can be directed to info@pinsbytim.com.au
Photos by Luke Saliba. Originally published in Yume Magazine #5 (August 2013)