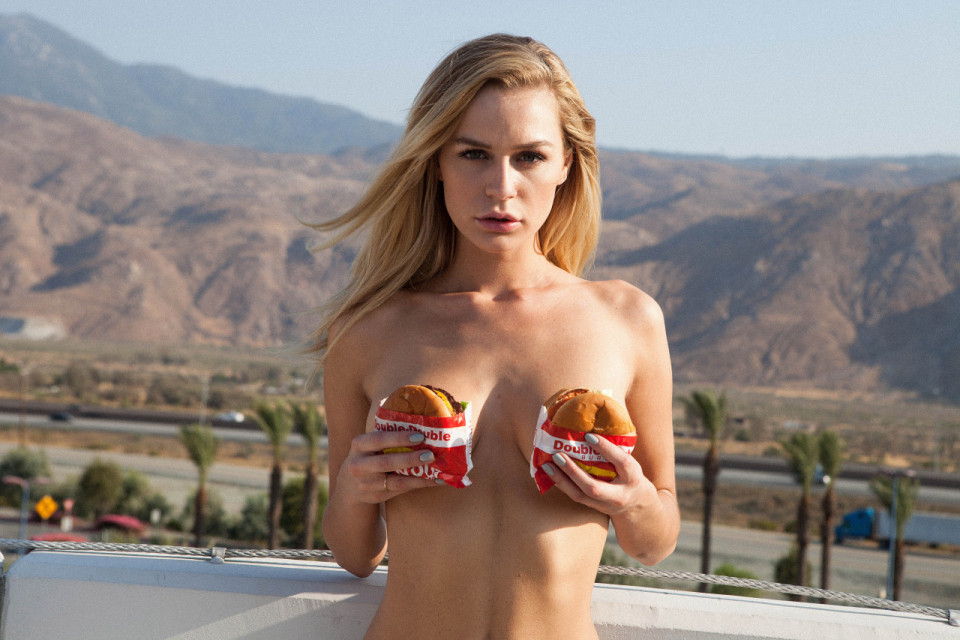 We spent a couple minutes with Yume Magazine #8 cover babe Kate Compton and the man behind the lens Adam Mont.
Can you tell us a bit about this incredible shoot in Palm Springs? What was it like doing a nude photo shoot in the desert?
Adam: This was our first time shooting together so I wanted to do something awesome, I ended up buying a replica gun from some Hollywood costume shop and we headed to the desert. Shooting out in the desert was great because we were free to shoot whatever we wanted.
Kate: It was a super hot day and I was just thankful to be naked!!
You two have worked together a lot recently and produced a ton of hot photos. Can you describe each other and what it is like working together?
Kate: Adam and I have a lot of fun working together. We get very silly and just come up with fun concepts and vibe off of each other. I wouldn't call it work because I enjoy it so much!
Adam: Working with Kate is always a pleasure, she's always very energetic and so easy to work with we always end up having a blast working together.
How did you guys first get into your respective fields of work?
Adam: I got my first camera out of high school wanting to shoot bands and my skateboarder friends, but somehow ended up shooting models.
Kate: I have wanted to model ever since I was a little girl. I loved getting all dressed up and doing mini photo shoots with my mum. Now I get to do actual shoots and I couldn't feel more blessed. It's nice to be able to do what you love.
What's the best thing about being a photographer/model?
Adam: I think the best thing about being a photographer is just seeing where it takes you. I would of never thought I'd be living in LA.
Kate: I get to get all dolled up and shoot in fun places. I have gotten to travel around the world with my job.
Yume means dream in Japanese. What are your dreams for 2015 and beyond?
Adam: My dreams for 2015 are to work with amazing creative people, learn new things, and adventure as much as possible.
Kate: This year it's my dream to start acting and I will turn that dream into reality! I want to challenge myself this year and do new things I've never done before.
Photography: Adam Mont / tumblr / instagram
Model: Kate Compton / instagram
Location: Palm Springs, California USA
Yume Magazine #8 / Buy now (Cowboy Kate edition) / Read online