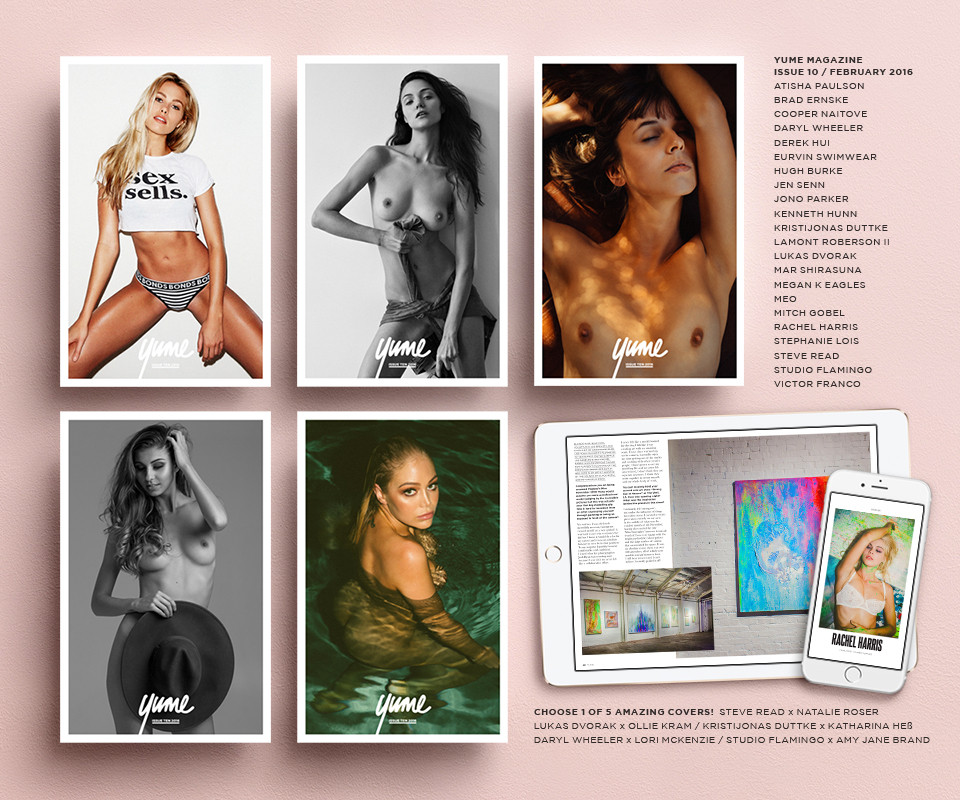 After a couple delays Yume Magazine #10 is finally here! With our last few issues we've given fans the choice of two covers but for our tenth issue we are extending it to five amazing covers, now including three nsfw versions. This has been popular request from a number of our readers so we thought why not give it a shot for our big tenth issue!
Below is the full list of contributors and the available covers. This issue features 166 ad free 5.25″ x 8.25″ pages of amazing artists, writers and photographers from all over the world!
---
---
Art: Meo — Victor Franco
Artist Interviews: Mitch Gobel — Rachel Harris
Creative Writing: Kenneth Hunn — Stephanie Lois
Fashion Spotlight: Eurvin Swimwear
Photography (short feature):
Brad Ernske x Shay Maria — Jono Parker x Cat Peters
Mar Shirasuna x Eva Biechy — Megan K Eagles x Haf Gibson
Photography (feature editorials):
Atisha Paulson x Melina DiMarco — Cooper Naitove x Oliwia Pawelczak
Daryl Wheeler x Lori McKenzie — Derek Hui x Brianna Walters
Hugh Burke x Montana Lower — Jen Senn x Jessica Larusso
Kristijonas Duttke x Katharina — Lamont Roberson II x Tina Louise
Lukas Dvorak x Ollie Kram — Steve Read x Natalie Roser
Studio Flamingo x Amy Jane Brand
---
Yume Magazine #10 will be available in both print and digital download via MagCloud. Please support Yume and purchase a digital download to keep on all your devices or a beautiful made-to-order print edition of the magazine that will look great on your coffee table or book shelf. As always our magazines are available free to preview in your browser via Issuu. Remember, Yume is 100% ad free and self-funded so any purchases will be highly appreciated!
Huge thank you for everyone's submissions! Yume wouldn't be here if it wasn't for everyone's continued love and support. We hope you enjoy this issue :)
— The Yume Team